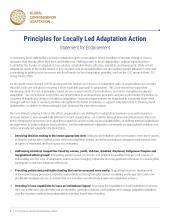 Principles for Locally Led Adaptation Action
These eight principles are designed to enable local stakeholders to strengthen and advance climate adaptation actions.
Shifting power to local stakeholders to lead in adaptation gives communities on the frontlines of climate change a voice in decisions that directly affect their lives and livelihoods. This could be through increasing financing to the local level, changing the processes and capacities required to access funds by local stakeholders, or shifting internal institutional arrangements to better integrate local priorities. These eight principles, created by the Global Commission on Adaptation, are intended to guide urban decision makers as they move programs, funding, and practices towards adaptation that is increasingly owned by local partners, creating more equitable and effective solutions.