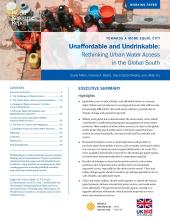 Unaffordable and Undrinkable
Rethinking Urban Water Access in the Global South
This resource identifies action areas for urban leaders to ensure equitable and reliable access to clean and affordable drinking water.
Urban water provision is a social good, but one that will become increasingly difficult for cities and water utilities to provide due to climate change and population growth.
Widely used global data underestimate the urban water crisis, which contributes to ineffective planning and management.

This paper examines urban water access from a global perspective, analyzing data from 15 cities. It explores key action areas for cities to ensure more equitable access to safe, reliable, and affordable water while combatting major trends affecting water access, including population growth, degraded and depleted water sources, and climate change. The paper recommends a public sector-led effort to extend formal piped water networks and support community-led informal settlement upgrading, among other actions. This paper was produced by WRI and provides executive summaries in Chinese, Portuguese and Spanish.