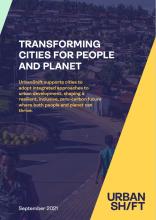 UrbanShift Brochure
Transforming Cities for People and Planet
This brochure describes UrbanShift's mission and vision and takes a high-level look at the program's city interventions and global capacity-building activities in Asia, Africa and Latin America.
Entrenched social inequity, lack of accessible green spaces, deteriorating air quality – cities today face a range of critical challenges, compounded by the climate crisis and the COVID-19 pandemic. Cities in the global South are especially vulnerable, with more than 90% of urban growth projected to take place in Asia and Africa. As our planet urbanizes at a rapid rate and demands on limited natural resources multiply, the need for cities to transform their development trajectory has never been more urgent.
UrbanShift's approach to transformative urban development is rooted in integration and equity. We engage with more than 23 cities across 9 countries (China, India, Indonesia, Sierra Leone, Rwanda, Morocco, Costa Rica, Brazil and Argentina), bringing together local and global stakeholders to build a greener, more equitable urban future for all. 
To learn more about UrbanShift's mission, approach and activities, download our brochure in the following languages: English, French, Spanish, Portuguese, Indonesian Bahasa and Mandarin Chinese.