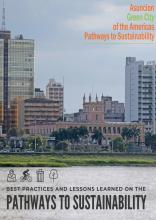 Best Practices and Lessons Learnt: Asunción, Paraguay
These three reports showcase sustainable and innovative approaches to tackling issues of urban mobility, waste management and ecosystem conservation in Asunción, Paraguay.
Abstract
Asunción, the capital of Paraguay, has evolved from a small city to a bustling metropolitan region in a short amount of time. As a beneficiary city of the GEF-6 Sustainable Cities Integrated Approach Pilot, Asunción has received support to address three critical areas of development: transport, solid waste management, and conservation of critical ecosystem services.
The following reports showcase some of the key actions taking place in Asunción through the GEF-6 "Asunción Green City of the Americas – Pathways to Sustainability" project.
Urban Orchards in a Natural Reserve: The Banco San Miguel y Bahía de Asunción Ecological Reserve is the city's largest green area. Spreading over 300 hectares, this unique ecosystem is recognized worldwide as a conservation site for shore and migratory birds. However, the reserve is home to numerous families living in vulnerable conditions. Waste management has become a social and environmental challenge, but the community is working with the Asunción Green City project to reduce irregular dumpsites and restore the reserve. 
My Neighbourhood without Waste: The first step to recovering valuable waste is to sort it at the point of origin, separating recyclables from non-recyclables. However, the Municipality of Asunción does not yet provide a segregated waste collection service. This becomes not only an environmental challenge but a social and economic one as well. This project, in its first stage, was an initiative that promoted recycling in Asunción through a platform that connected households from five neighborhoods with a collective of urban recyclers.
Tactical Urbanism to Design Cities for People: It is estimated that around 600,000 motored vehicles enter the city of Asunción each day, adding pressure to the already dense traffic. Interim tactical urbanism interventions can work as a means to increase road safety and promote citizen participation. Calle.Idea was a tactical urbanism contest open to the public, organized by the Asunción Green City project. The contest aimed to improve the management of urban, vehicular and pedestrian traffic through interim interventions implemented in specific crossings.