Argentina
One of the largest economies in South America, Argentina is home to 45.4 million people, of which 92% live in urban areas. UrbanShift is engaged in five cities in Argentina: Buenos Aires, Mar del Plata, Mendoza, Salta and Ushuaia. 
The UrbanShift project in Argentina is implemented by the UN Environment Programme (UNEP) in partnership with the Ministry of Environment and Sustainable Development (MAyDS). 
Occupying a vast expanse in the southern portion of South America, Argentina has the second largest economy on the continent, with a Gross Domestic Product (GDP) of approximately $450 billion. The country is endowed with rich natural resources and is a leader in the production of beef and cereals. Argentina is also a popular destination for adventure tourism and has a highly competitive IT sector.  
Argentina's unique ecological and geographic diversity is reflected in its 18 "eco-regions," which range from sub-tropical to Antarctic zones, the tallest mountains in the Americas to the depths of the Atlantic Ocean. Eight of these eco-regions have been classified among the highest priorities for global conservation. Currently, 11.6% of Argentinian national territory is protected. 
ECONOMIC DRIVERS

Agriculture, Industry & Tourism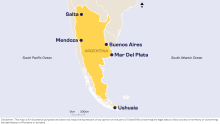 THE CHALLENGE
Argentina is one of the most urbanized countries in the world, with 92% of the population concentrated in cities. Volatile economic growth has led to a highly uneven distribution of wealth, particularly in cities; urban poverty in Argentina reached 40.6% in the early part of 2021. 
As urban agglomerations in Argentina continue to expand in area, economic and social segregation is projected to deepen, contributing to urban sprawl and an increase in informal settlements as well as gated communities. Despite efforts to improve public transport and promote non-motorized transport, local decisionmakers face difficulties in reducing the usage of private vehicles.  
Meanwhile, median distances between Argentina's urban and protected areas are narrowing, threatening the biodiversity and ecosystem functions of agricultural land, forests, wetlands, and other natural areas. 
Argentina is also exposed to several natural hazards, such as flooding, extreme heat, wildfires and intense precipitation, predicted to worsen with climate change. Floods account for about 60% of natural disasters in the country, causing huge economic losses for affected populations, especially vulnerable communities in coastal cities. 
UrbanShift's objective is to accelerate green growth in Argentinian cities, reducing greenhouse gas emissions and land degradation and conserving biodiversity. We aim to achieve this through strengthening local and provincial data platforms; supporting investments in eco-tourism, densification, and low-carbon development; and demonstrating the financial sustainability of urban green areas. You can find specific examples of our city projects below.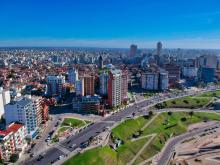 BUENOS AIRES
The Autonomous City of Buenos Aires (CABA) is Argentina's largest urban center, with a population of 2.89 million people and an additional 3 million commuters entering the city every day from the Buenos Aires Metropolitan Area (AMBA). 
According to the 2019 Vegetation Cover Report and a recent study of the city's bio-corridors, 30.4% of the City of Buenos Aires retains vegetative cover, supporting an extraordinary variety of plants, birds and other species.  
The CABA promotes ambitious environmental and climate action, specifically targeting energy efficiency, urban mobility, urban greening and city-infilling, positioning it as Argentina's foremost climate champion. For example, the Green Buenos Aires Plan (2014) aims to ensure that up to 96% of the city's residents have access to green spaces within a distance of 30 meters.  
Despite these efforts, Buenos Aires struggles with poor air quality, heat, congested roads and loss of biodiversity in the city and surrounding areas. 
URBANSHIFT'S INTERVENTION 
To help the CABA overcome these challenges, UrbanShift will support the development of a strategic vision and road map for a system of interconnected, integrated, low-emission green corridors across the Buenos Aires Metropolitan Area (AMBA). The corridors will be piloted in the southern, lower income parts of the city through an inclusive, gender and diversity-sensitive process of co-creation, including a base study of the local fauna and flora. 
MAR DEL PLATA 
Mar del Plata is Argentina's seventh largest city and most popular seaside resort. In the peak summer months, Mar del Plata's population swells from 650,000 to almost 1.2 million. This influx of tourists places immense pressure on urban services, such as transport, water, energy, and waste management.   
Mar del Plata lies within an important birding area and is close to the Mar Chiquita Provincial Nature Reserve. The city's strategic plan, "Mar del Plata 2030," provides a series of targets for urban development, including a green belt to contain urban sprawl. But even though tourism is Mar del Plata's predominant economic sector, the city lacks a coherent program for decentralizing tourism and promoting practices that reinforce biodiversity conservation and effective land management. 
URBANSHIFT'S INTERVENTION 
UrbanShift will support Mar del Plata to develop a sustainable tourism plan for 2050, ensuring long-term environmental and urban sustainability through integrated management of the tourism industry. Among other interventions, investments in conservation tourism will be piloted in and around Laguna de los Padres and the Mar Chiquita Biosphere Reserve.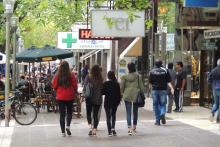 MENDOZA
The Metropolitan Area of Mendoza (AMM) is the most heavily urbanized area in west Argentina. Consisting of the municipalities of Las Heras, Mendoza Capital, Guaymallén, Godoy Cruz, Maipú and Luján de Cuyo, the population of the AMM is expected to increase by almost 20% between 2016 and 2030. 
Mendoza is located in the foothills of the Andes, to the east of Mount Aconcagua, the highest peak in the Americas. The metropolitan area and province are primarily known for wine and olive oil production, with a budding tourism sector. However, Mendoza's growing population is intensifying demands on the capital's city center. Coupled with a lack of transparent development data, population pressure is leading to disjointed expansion throughout the AMM and resulting in land degradation and biodiversity loss in the surrounding Andean piedmont.  
URBANSHIFT'S INTERVENTION 
UrbanShift will support the Mendoza Metropolitan Area to strengthen provincial and municipal digital platforms, incorporating geospatial information and sustainability indicators to facilitate integrated urban planning. The project will also pilot a "sustainable superblock" in the center of Mendoza, prioritizing non-motorized mobility, enhancing waste management through a circular economy approach and improving building and infrastructure energy efficiency. These interventions will demonstrate the social, environmental and economic benefits of a compact, low-emission city center. 
SALTA 
The Metropolitan Area of Salta is located in the warm, dry northern province of Salta, surrounded by the subtropical mountain forests of the Yungas Biosphere Reserve. The Yungas represents one of the richest ecosystems in Argentina and is home to nearly 50% of the country's biodiversity. 
Salta's economy is largely based on agriculture, mining, manufacturing and tourism. The city has experienced the highest population growth in Argentina over the past two decades, as well as extensive urban sprawl; Salta's population is projected to increase to 900,000 inhabitants by 2030, from just over 500,000 in 2010. 
This rapid growth is bringing with it associated pressures on urban infrastructure, especially on water supply, drainage and mobility. Salta is making efforts to transition towards a more balanced transport system, improving bus services and cycling facilities and planning a future bus rapid transit (BRT) corridor. 
URBANSHIFT'S INTERVENTION 
UrbanShift will support the municipalities of the Metropolitan Area of Salta to develop a system of transit-oriented, low-emission green corridors, designed to promote public and non-motorized transport, ecological connectivity and improved resource management. Among other interventions, a Salta-Las Yungas conservation partnership will foster sustainable use of biodiversity through the production and marketing of indigenous commodities, such as handicrafts, native fruits, and smallholder agricultural goods from the Las Yungas area.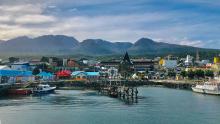 USHUAIA
Known as the southernmost city in the world, Ushuaia is the capital of Tierra del Fuego, Argentina's most isolated and sparsely populated province. The city is located on the coast of the famed Beagle Channel, with economic activity centered around fishing, oil and gas extraction, and tourism.  
Ushuaia's population has increased by more than 35% in the previous decade (2010-2020). Population growth, combined with the cold climate, poorly insulated houses and high gas subsidies, is mounting pressure on the city's energy supply; the average residential energy consumption in Ushuaia is 12 times that of Buenos Aires.  
In the absence of an integrated sustainable development plan, Ushuaia is facing a number of urban management challenges, including poorly planned new neighborhoods, encroachment on vital natural areas, and a severely lacking public transport system. 
URBANSHIFT'S INTERVENTION 
UrbanShift will support Ushuaia to develop a "Sustainable Ushuaia 2050" strategic plan, through a participatory and gender-sensitive process involving local and provincial governments and other key stakeholders. A conservation tourism and social development program will also be piloted in Ushuaia and Tierra del Fuego National Park, including a biodiversity monitoring system, activities to repair and strengthen the Municipal Trail Network, a training program for conservation tourism guides, and an early detection system for wildfires.  
PROJECT BUDGET 
GEF Grant: $23.5 million
Co-financing: $183.5 million
Implementing Agency
The UrbanShift project in Argentina is implemented by UNEP, in partnership with the Ministry of Environment and Sustainable Development.
Regional Coordinator
Bruno Incau coordinates UrbanShift's capacity-building offer in Argentina.