Costa Rica
Located in Central America, Costa Rica is a global leader in environmental protection and home to about 5 million people, 80% of whom live in cities. UrbanShift is engaged in the Metropolitan Area of San José (the GAM), which includes the capital.
The UrbanShift project in Costa Rica is implemented by the United Nations Development Programme (UNDP) in partnership with the Organization for Tropical Studies (OTS), and executed by the Ministry of Environment and Energy (MINAE). 
Costa Rica is one of the planet's biodiversity hotspots and harbors 4% of all known species, among them the endangered hawksbill sea turtle and great green macaw.
Owing to strong environmental policies, this Central American nation has successfully reversed deforestation and created a highly renewable energy matrix while maintaining steady economic growth; Costa Rica also has one of the lowest poverty rates in the region. Several progressive financing mechanisms have been piloted in the country to support wildlife conservation and the protection of forests, such as the Payments for Environmental Services (PES) program, established in the 1990s. Currently, 25% of Costa Rica's territory is protected and 59% of its land area is covered by forests. 
ECONOMIC DRIVERS

Agriculture & Tourism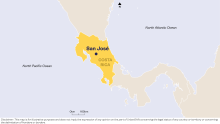 THE CHALLENGE  
In the past few decades, Costa Rica has transformed from a predominantly rural to an urban society; since the late 1980s, the country's urban footprint has expanded by 112%.  
Due to this rapid growth and a concurrent lack of planning, urban areas now constitute the second-most significant threat to Costa Rica's natural capital, in direct contrast with the conservation successes in other parts of the country. Multiple environmental challenges have been identified in the GAM (Metropolitan Area of San José), such as high GHG emissions from the transportation and energy sectors, increased vulnerability to natural disasters, and poor solid waste and wastewater management. 
In addition, climate change is projected to intensify natural disasters like storms, floods and landslides, further impacting the GAM's urban services and infrastructure.  
SAN JOSÉ  
Nestled in the mountainous Central Valley, San José is the capital and largest city in Costa Rica. Together with 31 municipalities in the surrounding provinces of Alajuela, Cartago and Heredia, San José forms part of the Greater Metropolitan Area (Gran Area Metropolitana, or GAM), home to 53% of the country's population. 
Over the years, as these municipalities have grown larger, a low-density suburban sprawl has taken place, encroaching on the agricultural and natural landscapes and pressuring the transportation system. Today, costs associated with traffic congestion in the GAM amount to 3.8% of the country's GDP. 
Transport in the GAM also plays an important role in GHG emissions; over 43% of national emissions are generated by fuel-based vehicles in the metropolis. Half of the country's emissions are from the waste sector and most of the emissions from industrial processes and product use also originate in the GAM.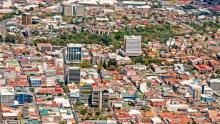 URBANSHIFT'S INTERVENTION 
Supporting Costa Rica in transitioning to an urban green economy is a key priority for UrbanShift. Our objective is to achieve decarbonization in the GAM through fiscal and policy reform and sustainable, integrated urban planning. We aim to achieve this objective through a combination of multi-sectoral and inter-institutional agreements, legislative reforms, financing of circular business models, and the development of planning instruments. 
Examples: 
Legislative reforms to reduce emissions and loss of biodiversity in urban landscapes  
Economic analyses of business models to achieve decarbonization of the solid waste and sewage management sectors, as well as to promote active mobility 
Participatory plans for the management of green urban spaces 
Restoration of critical urban areas to protect vulnerable urban populations, build resilience and contribute to climate change mitigation 
PROJECT BUDGET 
GEF Grant: $10.3 million
Co-financing: $99 million 
Implementing Agency
The UrbanShift project in Costa Rica is implemented by UNDP, in partnership with the Organization for Tropical Studies (OTS).
LOCAL TEAM
UrbanShift's UNDP partners in Costa Rica are represented by the following staff members and consultants.
Regional Coordinator
Bruno Incau coordinates UrbanShift's capacity-building offer in Costa Rica.