Annual Report 2021-2022
UrbanShift's inaugural annual report serves as an inspiring portfolio of the program's first year in action as well as a handbook for our strategy to achieve sustainable, low-carbon growth in more than 23 cities across three continents. Browse the report to learn more.
UrbanShift was launched at Climate Week NYC in September 2021, in the midst of the COVID-19 pandemic. Despite the challenges, we made tremendous progress over the course of the year. Our team of global partners worked diligently to forge relationships with the program's city and national stakeholders and co-create projects that demonstrated the value of the integrated urban planning approach. We developed training material and organized workshops to enhance our stakeholders' capacity across a range of integrated planning topics, from nature-based solutions to climate adaptation finance. And we established a space for UrbanShift at strategic international conferences like the COP, reinforcing the vital role that cities must play in responding to the climate crisis.
Local projects approved in 9 countries

18 capacity-building & advocacy events organized

5,000 people engaged through the global platform
Working together across cities, countries, organizations and governments, we have successfully paved the way for UrbanShift to reach its ambitious, yet urgent, goals: mitigate more than 170 million tonnes of CO2e emissions, manage and restore 1 million hectares of land, and improve the lives of 40 million people.
Read about the program and the milestones accomplished in our first year of action.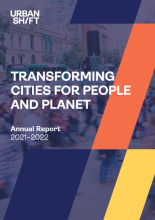 Annual Report cover 2021 2022_small.png