Morocco
Morocco is home to over 36 million inhabitants and has the third largest economy in North Africa. UrbanShift is engaged in the city of Marrakech, which comprises about 5% of Morocco's urban population.
The UrbanShift project in Morocco is implemented by UNDP, in partnership with the Government of Morocco and the City of Marrakech.
Located in the north-western corner of the African continent, Morocco encompasses diverse forest, woodland, and desert ecosystems and enjoys coastlines with the Atlantic Ocean and the Mediterranean Sea. Morocco also has the second highest rate of biodiversity among Mediterranean countries, with particularly rich marine habitats.
Morocco's economy is the seventh-largest in Africa, dominated by the services sector, industry and tourism. However, agriculture still employs the largest proportion of the workforce and accounts for over 11% of the Gross Domestic Product (GDP).
A middle-income country, Morocco has managed to sustain economic growth for several years at roughly 4% (pre-COVID-19). Through aggressive macroeconomic policies and reforms, significant strides have been made to improve the welfare of Moroccan citizens: poverty levels have dropped to under 5% and life expectancy in Morocco is among the highest in Africa.
ECONOMIC DRIVERS

Services, Industry & Tourism 
THE CHALLENGE
Recognizing the value of biodiversity and ecosystem services, Morocco has led many conservation efforts across the country, including programs to restore and regenerate 50,000 hectares of forests on an annual basis. Morocco also plans to curb its greenhouse gas (GHG) emissions by 45.5% by 2030 and achieve 52% installed renewable energy capacity by 2030 as well. Thanks to these ambitious climate commitments, Morocco ranks fifth in the world in the climate performance index for 2022.
Nonetheless, economic development and demographic growth, coupled with climate change and rapid urbanization, have led to a sharp increase in pressure on natural resources and biodiversity in Morocco. Consequently, land degradation, biodiversity loss, and other anthropogenic factors are deepening climate-related vulnerabilities — flood and drought cycles, extreme temperatures, fires and landslides — in urban centers across Morocco.
MARRAKECH
Nestled at the foot of the Atlas Mountains, the historic city of Marrakech is home to just over one million people. Marrakech derives about a third of its income from tourism, making it the second most tourism-dependent city in the world. Other economic activities include agro-industry, trade and handicrafts. Marrakech has expanded 10-fold geographically in the last 35 years. As a result, the city faces numerous urban challenges, such as limited or inadequate urban planning, water scarcity and extreme temperatures, which are being exacerbated by climate change.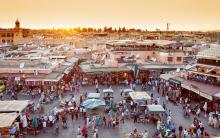 URBANSHIFT'S INTERVENTION
Our project aims to promote integrated urban planning and the development of innovative financing instruments in Marrakech, adopting a multisectoral and inclusive approach to foster sustainable growth. This will be achieved through planning and policy reforms together with increased investments towards low-carbon development options in various economic sectors.
Examples:
Review of the urban planning framework at the national level
Development of business plans for three key economic sectors, namely waste management, biodiversity and water resources
Pilot demonstration for the deployment and testing of nature-based solutions (NBS) and agrobiodiversity
Deployment of sustainable mobility systems, such as electric motorcycles and buses
PROJECT BUDGET
GEF Grant: $9.4 million
Co-financing: $298 million
CONTACT
For more information about UrbanShift's activities in Morocco, please contact Amal Nadim, Head of Environment, Energy and Climate Change at UNDP.
Implementing Agency
The UrbanShift project in Morocco is implemented by UNDP, in partnership with the Government of Morocco and the City of Marrakech.
Regional Coordinator
Jessy Appavoo coordinates UrbanShift's capacity-building offer in Morocco.