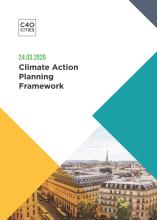 Climate Action Planning Framework
This resource guides cities through the essential components needed to deliver climate action plans compliant with the Paris Agreement.
To meet the Paris Agreement's target of limiting global temperature rise to 1.5°C, climate action planning needs to deliver new levels of ambition, driving rapid and systemic change on the ground.

This framework supports cities in developing climate action plans that are aligned with the objectives of the Paris Agreement. It outlines the essential components of a climate action plan including governance and coordination, community and private sector involvement, effective communication, evidence-based assessments of challenges and opportunities, and the importance of monitoring, evaluation, and reporting. The framework highlights essential planning elements that will accelerate transformational action as well as guidance on how to strengthen the plan in current or future iterations.  The report was produced by C40 Cities and is also available in French, Portuguese and Spanish.