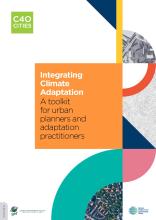 Integrating Climate Adaptation
A Toolkit for Urban Planners and Adaptation Practitioners
This resource guides planners to incorporate adaptation mechanisms into urban planning processes, shaping equitable and climate-resilient cities.
Cities are responsible for 70% of greenhouse gas emissions, and they also endure the worst effects of the climate crisis. Sustainable urban planning policies can reduce cities' vulnerability to climate risks for decades to come. This toolkit, aimed at both urban planners and climate adaptation specialists working for cities, provides guidance on integrating climate adaptation into the practice of urban planning. It is designed to help planners build a case for including adaptation measures when developing projects and engaging decision-makers, and supports cities in incorporating nature-based solutions and other mechanisms for reducing climate vulnerabilities to ensure practical, livable and just urban development. 

The guide, produced by C40 Cities, includes nine case studies showcasing adaptation measures taken by cities around the world. It is also available in French, Portuguese and Spanish.