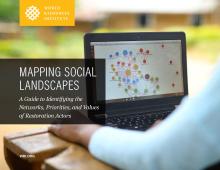 Mapping Social Landscapes
A Guide to Identifying the Networks, Priorities, and Values of Restoration Actors
This guidebook helps planners understand the priorities, values, and resource use patterns of people within a landscape to improve landscape restoration efforts.
Biophysical opportunities mapping is a well-established technique used in forest and landscape restoration. However, there is also a need to map social opportunities and better understand social landscapes.

This guide provides a methodology for urban leaders to understand landscape governance by mapping the resource flows, priorities, and values of people living and working within a city or specified area. The approach goes beyond the biophysical aspects of a landscape, seeking to understand how people impact restoration and resources. The guidebook focuses primarily on restoration, but the same methodologies can be adapted to broader analysis of natural resource governance. This resource was produced by WRI and is also available in Portuguese and French.