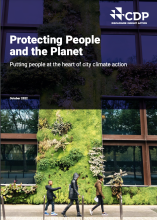 Protecting People and the Planet: Putting People at the Heart of City Climate Action
This report from ICLEI and CDP shares analysis from the data reported through the 2022 CDP-ICLEI track, and highlights the need for people-centered climate action in cities.
Cities are on the front lines of climate change: Already, nearly a third of global cities face climate-related hazards that threaten at least 70% of their population. While much of the scientific analysis and policy debate surrounding climate change can feel abstract, its impacts are real and intensifying. This report from ICLEI and CDP, which runs the global environmental disclosure system for private and public entities, places people at the heart of the climate crisis. In analyzing the data collected from the 998 cities that reported data to the CDP-ICLEI track in 2022, the report highlights present challenges and potential co-benefits, from better public health to more jobs to improved social inclusion, from taking a people-first approach to climate planning, mitigation, and adaptation efforts.