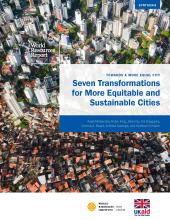 Seven Transformations for More Equitable and Sustainable Cities
This synthesis of the World Resources Report recommends seven transformations to create a new dynamic for durable, cross-sectoral, city-wide change and provides a roadmap to more equitable access to core urban services.
One in two people live in cities and 2.5 billion more will do so by 2050. With many cities already struggling to meet people's basic needs, global development and climate challenges are increasingly urban challenges. A sustainable future depends on whether cities can become more prosperous, more equal, and low-carbon at the same time.

This synthesis report is the capstone of the World Resources Report: Towards a More Equal City, a research series produced by WRI offering a roadmap for how to unleash transformative change in cities. The report presents seven crucial urban transformations that are needed in the areas of infrastructure design and delivery, service provision, data collection, urban employment, finance, land management, and governance, ensuring equitable access to urban services and building city-wide prosperity and better environmental quality for all.