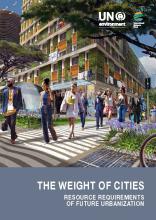 The Weight of Cities
Resource Requirements of Future Urbanization
This report stresses the importance of resource monitoring and the integration of cross-sector urban actions to prepare for urban growth and climate change.
Without a new approach to urbanization, material consumption by the world's cities will grow from 40 billion tonnes in 2010 to about 90 billion tonnes by 2050. The resource use implications and environmental impacts of urbanization are significant. Resources should now become a central policy concern, in addition to concerns about climate change.

This report presents a strategy of parallel actions on urban planning, sustainable infrastructure design, and cross-sector resource efficiency that are required for a transition towards low-carbon and socially inclusive cities. Monitoring key resource indicators to better understand current and future resource dependencies and embedding resource efficiency into spatial planning will be critical for policymakers to improve urban productivity. City leaders can utilize this report's new governance model, innovative business propositions, and other recommendations to make this urban transition possible.  This report was produced by UNEP.