Sustainable Cities Impact Program
UrbanShift is the brand name of the Global Environment Facility's Sustainable Cities Impact Program. It builds on the lessons and experiences of the Sustainable Cities Integrated Approach Pilot, facilitated through the Global Platform for Sustainable Cities. 
Recognizing that cities are key to achieving global environmental and sustainability goals, the Global Environment  Facility (GEF) launched the Sustainable Cities Integrated Approach Pilot in 2016 as part of the GEF-6 cycle (2014-2018). The program is now under implementation, supporting 28 cities in 11 countries with integrated urban sustainability solutions, and the Global Platform for Sustainable Cities (GPSC) helps facilitate city-to-city exchange and knowledge creation.
Building on the experience and lessons learned from this pilot, the Sustainable Cities Impact Program in the GEF-7 cycle (2018-2022) advances the integrated approach of urban planning and implementation under its brand name UrbanShift. The program is supporting more than 23 cities in 9 countries and focuses on integrated urban planning, low-carbon infrastructure, sustainable waste management and nature-based solutions for urban sustainability. UrbanShift brings together global, national, and local stakeholders, and engages with city-based organizations and the private sector to work towards common sustainability visions.
MITIGATING

170 MT of GHG emissions

MANAGING & RESTORING

1 million hectares of land

SUPPORTING

50 cities & 17 countries
In total, the GEF's Sustainable Cities program works with 50 cities across 17 countries, through $310 million in GEF grants, leveraging nearly $4 billion in co-financing. The program aims to reduce more than 250 million tons of greenhouse gas emissions and support the sustainable management of nearly 1 million hectares in addition to climate resilience benefits and socio-economic benefits of vulnerable communities. 
For more information about the GEF's Sustainable Cities Program, download the brochure. 
Source: Sustainable Cities (GEF)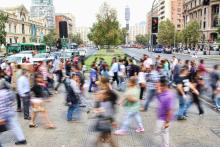 UrbanShift Annual Report 2021-2022
About the GEF
The GEF is the largest multilateral trust fund focused on enabling developing countries to invest in nature and supports the implementation of international conventions on biodiversity, climate change, chemicals, mercury and desertification. Click below to learn more.