UrbanShift at COP27
UrbanShift led and participated in crucial discussions around climate finance, multi-level governance, and nature-based approaches in Sharm el-Sheikh, providing our stakeholders with a space to share their climate goals and challenges.
date & time

06 Nov 2022, 9:00PM EET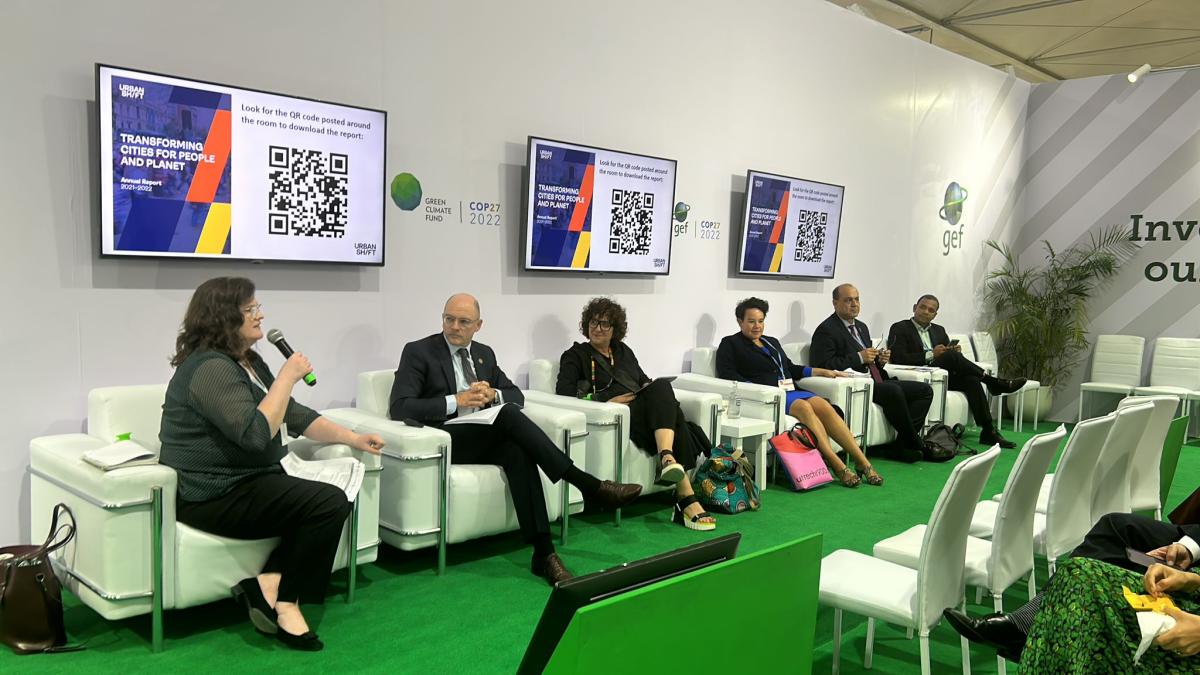 The 27th Conference of Parties of the UN Framework Convention on Climate Change takes place on November 6-18, 2022, in Sharm el-Sheikh, Egypt. 
COP27 will build on the outcomes of COP26 to catalyze action on an array of issues critical to tackling the climate emergency – from reducing greenhouse gas emissions, building resilience and adapting to the impacts of climate change to delivering on commitments to finance climate action in developing countries. 
UrbanShift will be in Sharm el-Sheikh, leading and participating in crucial discussions around climate finance, multi-level governance, and nature-based approaches and providing our city and country stakeholders with a space to speak about their climate challenges and brainstorm actions and solutions. Find a list of events below, with information about how to join the events virtually. 
Venue: GEF-GCF Pavilion 
Date & Time: Tuesday, November 15, 13:30-15:00 EET 
Join: Live Stream
This session, hosted by UrbanShift partners and the GEF, will showcase ongoing efforts to leverage nature-based approaches as a response to the climate crisis. We'll hear from local and national leaders, as well as experts from the UrbanShift global platform, on how to harness the power of nature and nature-based solutions to build a sustainable urban future where both people and planet can thrive. This event will also mark the launch of the inaugural UrbanShift annual report.
Venue: Multi-level Action Pavilion
Date & Time: Friday, November 11, 12:00-13:30 EET
Join: Zoom (passcode: 7664)
Cities are critical to delivering a green and just transition while limiting global warming to 1.5 degrees; they also offer an enormous economic opportunity. Research has shown that, by 2050, technically feasible low-carbon measures could cut emissions from buildings, transport, materials use and waste in cities by almost 90%, support 45 million jobs, and generate energy and material savings worth US$23.9 trillion.  
Raising the investment required to seize this opportunity requires collaboration among cities, national governments and investors. This event, convened by UrbanShift's partner the World Resources Institute (WRI), will bring together experts and practitioners to discuss and share examples of how to effectively finance low-carbon, resilient and inclusive cities through multi-level action. 
3. CALL TO ACTION: HOW CAN NATIONAL AND LOCAL GOVERNMENTS SCALE FINANCE FOR URBAN CLIMATE ADAPTATION AND RESILIENCE? 
Venue: Resilience Hub, Blue Zone
Date & Time: Saturday, November 12, 13:15-14:30 EET
Join: Register
UrbanShift will support the Cities Climate Finance Leadership Alliance (CCFLA), a member of our Partnership Engagement Group, to bring together city leaders, national policymakers and climate finance experts to discuss the challenges and opportunities for scaling urban climate adaptation finance. 
Ahead of the event, CCFLA will publish a call to action with key messages for national policymakers to consider regarding urban climate adaptation finance. This event will serve as the formal launch of the call.
4. NO SOLUTION FOR ME, WITHOUT ME: UN'S EFFORTS ON CLIMATE JUSTICE THROUGH LOCAL ACTION IN CITIES
Venue: One UN Event, Room Hatshepsut 
Date & Time: Wednesday, November 16, 13:15-14:45 EET 
Join: YouTube
Discussions on climate justice in cities are often framed around the gap in urban services and resources. This session, hosted by UN-Habitat, will flip the script and showcase examples of community resilience, focusing on how policymakers and UN partners can work successfully together and with communities to scale up local climate action, achieve parity between climate adaptation and mitigation, and unlock climate finance for the most vulnerable. 
Please check back for more details about these and other UrbanShift events at COP27.