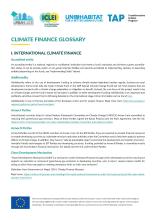 Climate Finance Glossary
City leaders can utilize this resource to better understand the many types of financing instruments available to them and identify climate financing solutions.
This resource collects essential terms and definitions used in international climate finance and includes links to further reading on many of the terms. City leaders can use this glossary to support project design and learn about a wide array of financing instruments which could be employed in their city. The glossary was produced with the support of ICLEI.