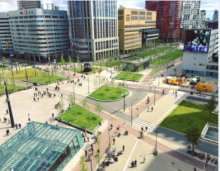 Reducing Climate Impacts on Urban Sectors
This concise set of policy briefs provides an overview of climate adaptation actions cities can take within eight specific urban sectors, including energy, buildings, mobility, waste, and food systems.
In response to climate change, cities around the world are already implementing ambitious actions to reduce emissions (mitigation) alongside efforts to increase their climate resilience (adaptation) to protect citizens and infrastructure against current and future extreme weather events.

This series of policy briefs provides guidelines and examples of adaptation mechanisms to reduce climate change impacts in the urban sectors of clean energy, mass transit, new, municipal, and private buildings, waste and food systems, and active mobility. Each guide outlines the importance of integration within the relevant urban sector and includes example actions and case studies. These policy briefs were produced by C40 Cities.