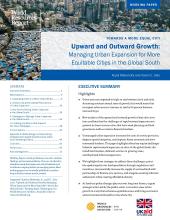 Upward and Outward Growth
Managing Urban Expansion for More Equitable Cities in the Global South
This paper guides city officials to manage urban sprawl with strategic land-use policy action to build more productive and equitable cities.
Urban areas are expected to triple in size between 2000 and 2030. Unmanaged urban expansion increases the costs of service provision, deepens spatial inequities, and imposes heavy economic and environmental burdens.

This resource highlights strategies that cities can adopt to manage urban sprawl in a way that ensures more equal and productive cities, including: 1. Prioritizing spatial equity over land speculation through regulations and incentives; 2. Incrementally increasing the supply of serviced land with partnerships to finance core services; 3. Integrating existing informal settlements while creating affordable density. This paper was produced by WRI and provides executive summaries in Chinese, Portuguese and Spanish.