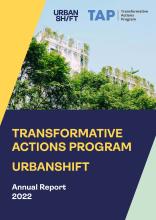 Transformative Actions Program: UrbanShift Annual Report 2022
Looking back at the 2022 TAP call for projects, this report summarizes the project applications received this past year, as well as the activities conducted around the projects already in the pipeline since 2021.
A partnership initiative led by ICLEI and supported by UrbanShift, the Transformative Actions Program aims to address the pressing challenges faced by subnational governments in implementing climate projects by supporting these governments to access financing for net zero emission and climate resilient infrastructure projects. As TAP is part of the broader UrbanShift finance offer, both GEF-6 and GEF-7 are eligible to receive support from this program. This 2022 Annual Report recaps the projects submitted to last year's TAP call for projects, and shares findings and progress from UrbanShift-affiliated TAP projects since 2021.