January 2022 Newsletter
In UrbanShift's first newsletter, we announced the launch of our website and provided a recap of key activities and events since the program's official kick-off in September 2021.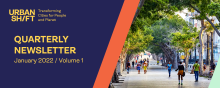 Dear Friends and Colleagues,
Happy New Year, on behalf of UrbanShift! As co-director of this GEF-funded sustainable cities program, I'm delighted to pen the welcoming words for UrbanShift's first quarterly newsletter. Each newsletter will feature a note from one of the program's leaders, highlights of our latest work and a preview of what's to come.
UrbanShift launched in September 2021 with a dynamic global event at Climate Week NYC. We hosted a virtual workshop on financing climate adaptation in African cities, and we kicked off our multilingual webinar series, discussing nature-based solutions in Freetown, Sierra Leone, climate reporting frameworks in Pune, India, and the use of sustainability indicators in Argentina and Brazil.
UrbanShift also participated in COP26, where I had the honor to speak to national government representatives from Rwanda, Brazil and India in a UNFCCC side event about the role of multi-level governance in catalyzing urban transformation and local climate action.
Finally, we greeted 2022 with the launch of the new UrbanShift website! I'd encourage you to explore the resources the site has to offer, such as this curated selection of knowledge products on topics of integrated urban development, or details about UrbanShift's nine country-level projects, all of which have been endorsed by the GEF CEO.
2021 was another challenging year for the world, particularly for cities. I hope that in this new year, we can continue to build on the positive moments, working towards an urban future where both people and nature thrive.
Thank you to all our partners and supporters! I wish you a healthy and rewarding 2022.
On behalf of the UrbanShift team, 
Rogier van den Berg
Co-Director, UrbanShift & Acting Global Director, WRI Ross Center for Sustainable Cities 
UPCOMING OPPORTUNITIES
This Prize for Cities cycle invites submissions from initiatives and projects demonstrating how cities can respond to uncertainty, disruption and crisis. $250,000 will be awarded to one grand prize winner and $25,000 each to four runners up. February 15, 2022. Apply.
The second UN Environment Assembly (UNEA) Cities Summit challenges us to see cities as champions of nature and accelerators of a sustainable future. Experts and city leaders will speak about the value of nature-positive strategies in rethinking the way cities are planned. February 23, 2022. Register.
UrbanShift Webinar: Towards a More Equal City
The next UrbanShift webinar presents findings from the latest World Resources Report, revealing insights on seven urban transformations that are needed to build more equitable and sustainable cities. March 2022. Registration coming soon.
ICLEI's triennial gathering on local sustainability allows participants to meet virtually or in-person in Malmö, Sweden, to build knowledge, exchange ideas, network with peers and learn from Malmö's experience in innovative, climate-smart urban development. May 11-13, 2022. Register.
The Gap Fund, implemented by the World Bank and European Investment Bank, offers technical assistance to cities in low- and middle-income countries to turn  climate-resilient ideas into finance-ready projects. Open for applications all year.​​​​​​
ABOUT URBANSHIFT
UrbanShift's mission is to transform cities for people and planet through integrated urban development. We engage with more than 23 cities across nine countries (China, India, Indonesia, Sierra Leone, Rwanda, Morocco, Costa Rica, Brazil and Argentina), bringing together local and global stakeholders to build a resilient, inclusive, zero-carbon urban future. Learn more.