City-Business Collaboration
Cities are central to the global response to the climate, nature and wellbeing crises. However, city governments cannot solve urban sustainability challenges by working alone. Collaboration, especially between cities, communities and businesses, becomes the bridge that connects ideas with action.

Explore best practices for public-private collaboration
Public-Private Collaboration to Accelerate Sustainable Urban Development - A Guide for Global South Cities 
This guide showcases 30 case studies of city-business collaboration and outlines 5 models for cities to leverage the power of the private sector to drive sustainable urban development.
UrbanShift is supporting cities to collaborate with the private sector in the following ways: 
City-Business Hubs 
City-Business Hubs are global events where UrbanShift convenes city and business leaders to discuss the most pressing regional challenges and ways of addressing them in partnership. The Hubs are organised as part of the regional UrbanShift Forums. 
Contact Emily White (ewhite@c40.org) for more information.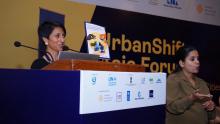 ---
City-Business Climate Alliance  
The City-Business Climate Alliance (CBCA) is a joint initiative between C40, CDP and the World Business Council for Sustainable Development. The CBCA provides support for the most ambitious city leaders to create a local climate alliance with businesses: to convene, set joint commitments, co-create, and implement projects that help cities deliver on their Climate Action Plans in line with the Paris Agreement. UrbanShift cities are invited to join the CBCA global forum to learn and share ideas with other cities on how to collaborate with the private sector to deliver local climate action. 
In 2022, C40 supported the City of Buenos Aires to develop its own local City-Business Climate Alliance. In October 2022, The Mayor launched the Grupo Consultivo de Empresas y Cambio Climático entre la Ciudad de Buenos Aires y empresas del sector privado (see article). The initiative seeks to promote public-private cooperation to deal with the effects of climate change in the city. The group is made up of 10 companies: Mercado Libre, Quilmes, Mitre, Aldar, Enel, Metrogas, Arcos Dorados, the Association of Tourism Hotels (AHT), Andreani, VASA, MAPFRE and Telecom Personal. The group is currently working on a circular construction economy project and a protocol for outdoor workers during heatwaves. UrbanShift supports Buenos Aires through coaching, writing guides and facilitating peer learning opportunities with other cities.
Contact Emily White (ewhite@c40.org) for more information.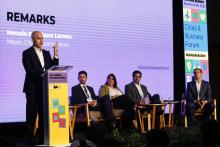 ---
City-Business Collaboration Accelerator (CiBiX)
The City-Business Collaboration Accelerator (CiBiX) is a trademark ideation workshop program offered by ICLEI - Local Governments for Sustainability (ICLEI). The focus of the program is on connecting cities and businesses to define sustainability challenges and identify collaboration pathways to jointly tackle these challenges with innovative and urban sustainability solutions. The objective of the CiBiX Workshops is to increase mutual understanding between the public and private sector of urban sustainability opportunities and needs through targeted and personalized support offered by ICLEI. In addition, the actual workshop allows neighboring or regional cities to perform advisory functions on the solutions being pitched by businesses, thereby enhancing collaboration amongst cities.
Contact Magash Naidoo (magashen.naidoo@iclei.org) for more information.