NOVEMBER 2022 NEWSLETTER
In UrbanShift's last newsletter of 2022, we hear from our lead agency, UNEP, on the program's efforts to promote biodiversity in cities, highlighting resources and webinars that explore the power of nature to enhance climate resilience and equity. We also celebrate the launch of our first annual report!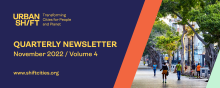 Dear friends and colleagues,
Welcome to the end-of-year edition of UrbanShift's quarterly newsletter! I am pleased to write to you on behalf of the UN Environment Programme. We are proud to serve as the lead agency for this ambitious GEF-funded initiative to create nature-positive, carbon-free cities, the relevance of which is confirmed every day.
The 2022 UNEP Emissions Gap report highlights that only an urgent, system-wide transformation can deliver the 45% emission reductions needed to limit warming to 1.5°C by 2030. To get on track, it is crucial that cities contribute to the effort and shift towards a more sustainable urban future.
UrbanShift supports local governments to tackle this challenging transformation. We recently celebrated our first anniversary with the launch of our inaugural annual report. Please spend some time exploring what we have collectively achieved in the past year.
2022 was an important year for biodiversity, with the UN Decade on Ecosystem Restoration and preparations for the Post-2020 Global Biodiversity Framework picking up speed. At UrbanShift, we made it a priority to advocate for increased financing for nature in cities, conveying this message at key global events like UNEA 5, WUF11, Climate COP27, and very soon, at the Biodiversity COP15 in Montreal.  Thank you for your continued support and engagement. We wish you a very happy holiday season and new year!
Sharon Gil / Head, Cities Unit, UN Environment Programme
NEWS & UPDATES
UrbanShift's local project in Sierra Leone, implemented by the World Bank in partnership with the Government of Sierra Leone and participating city administrations, officially kicked off on October 6 in Freetown. Watch the recording.  
UrbanShift cities Pune and Freetown won the C40 Cities Bloomberg Philanthropies Award in Buenos Aires on October 19. The awards recognized the most impactful projects spearheaded by C40 mayors to tackle the global climate crisis. Read the press release.
UrbanShift's local project in China was formally launched in Beijing on November 16 at a workshop hosted by the World Bank and the China Center for Urban Development (CCUD), under the National Development and Reform Commission. Read more.
UPCOMING OPPORTUNITIES
Cities and forests may appear unrelated at first glance, but the latest science reveals that they deeply impact each other. This webinar will launch a first-of-its-kind report that evaluates the benefits that forests, at multiple scales, provide to cities and their residents, including health and water security. Register. November 29, 2022.
As cities expand their built environment and services to accommodate growing populations, ensuring equal access to urban nature becomes even more critical. Showcasing examples from Mexico City, this webinar will explore how nature can be used to promote equity in cities. Register. December 7, 2022.
The TAP supports local and regional governments to transform their resilient development infrastructure concepts into mature, bankable projects ready for financing and implementation. Submit your project. December 15, 2022. 
The 15th UN Biodiversity Conference will convene governments from around the world to agree to a new set of goals for nature over the next decade, with the vision of creating a harmonious relationship with biodiversity by 2050. Register. December 7 – 19, 2022.
ABOUT URBANSHIFT
UrbanShift's mission is to transform cities for people and planet through integrated urban development. We engage with more than 23 cities across nine countries (China, India, Indonesia, Sierra Leone, Rwanda, Morocco, Costa Rica, Brazil and Argentina), bringing together local and global stakeholders to build a resilient, inclusive, zero-carbon urban future. Learn more.