August 2023 Newsletter: Climate Finance Edition
In this second special finance-focused newsletter, we hear from ICLEI's Deputy Secretary General and Executive Director of ICLEI South Asia Secretariat on opportunities to enhance cities' knowledge of financing strategies, securing and accessing funding for green infrastructure projects.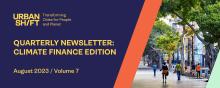 Dear friends and colleagues, 
On behalf of ICLEI, a co-executing partner of UrbanShift, I am excited to share news about upcoming events, financing opportunities and tools developed for cities in this annual climate finance edition of the UrbanShift newsletter. 
This year, capacity building is UrbanShift's focus. The Transformative Actions Program (TAP) is accepting applications for sustainable urban infrastructure projects from local, city and regional governments until 15 December 2023. Through TAP, cities receive support to prepare their projects for investment, and connections with Project Preparation Facility providers, and introductions to potential project financiers. In addition, I am happy to announce that the UrbanShift Online City Academy will be launched in September during the UrbanShift Asia Forum. This innovative learning platform is designed to equip urban practitioners with the knowledge and tools they need to reimagine existing urban systems across eight different topics of interest to cities, one of which is "Accessing Urban Climate Finance". The City Academy courses will provide practical insights that contribute to building climate-resilient, nature-positive cities. 
The UrbanShift Asia Forum, which will take place from September 25-28 in New Delhi, will be a milestone moment for the program. Organized around the theme of financing climate action in cities, the Forum will bring together senior political and technical representatives from UrbanShift cities and countries across the Asia region. Through the Forum, participants will exchange knowledge and lessons learned on addressing urban development challenges with targeted solutions coming from cities, international organizations, financial institutions, and the private sector.  
Among the tools developed this past year, I would highlight the recently launched geospatial data dashboard, developed by UrbanShift and Cities4Forests, which helps cities better understand the factors influencing their climate risks and prioritize and prepare for hazards with data-informed mitigation strategies.  
We hope you continue to follow our work and find the finance case studies and reports featured in the resources section, along with the opportunities and upcoming events useful.  
For those who will join us at the UrbanShift Asia Forum 2023, we look forward to welcoming you to New Delhi! 
Emani Kumar / Deputy Secretary General and Executive Director, ICLEI South Asia 
CLIMATE FINANCE OPPORTUNITIES 
Transformative Actions Program (TAP) 2023 Call 
Led by ICLEI – Local Governments for Sustainability and part of the UrbanShift's finance offer, the TAP is a global initiative to help local and regional governments transform their sustainable development concepts into mature, robust and bankable projects ready for financing and implementation. Learn more in this webinar and apply here. Deadline: December 15, 2023. 
City Climate Finance Gap Fund  
The Gap Fund –implemented by the World Bank and European Investment Bank– offers technical assistance for cities in low and middle-income countries for early or underfunded stages of project identification and preparation. Apply here. Applications can be submitted throughout the year.   
The Subnational Climate Fund 
The SCF invests in mid-sized infrastructure projects, including sustainable energy, waste and sanitation, regenerative agriculture, and nature-based climate solutions. They partner primarily with subnational authorities to identify and implement these projects, financed with a blend of concessional and conventional capital, along with Technical Assistance grants that help mitigate risk and ensure financial and environmental goals are achieved. Apply here. Applications can be submitted throughout the year.  
Sustainable Cities Challenge 
The Sustainable Cities Challenge is a two-stage, three-year $9 million global opportunity for cities focused on overcoming mobility barriers, strengthening systems, and advancing low-carbon options. Global cities or urban districts with a minimum population of 100,000 are invited to apply to host City Challenges in 2024-2025 to identify solutions for their specific local mobility challenges. Apply here. Deadline: September 18, 2023.  
UPCOMING EVENTS & OPPORTUNITIES
China Climate Finance Academy 
The China Climate Finance Academy, consisting of a High-Level Segment and a 1.5-day closed door workshop will convene around 6 Chinese cities, technical and finance experts and non-Chinese cities to share climate and energy finance lessons learnt and best practices. The intended outcome is to support the planning, financing, and implementation of climate action in Chinese cities. Learn more. September 5-7, 2023.
TAP webinar on Land Value Capture 
This webinar, coordinated with the Lincoln Institute for Land Policy, will introduce the fundamental principles of land value capture and demonstrate how and why it can be used as a financing source for governments, focusing particularly on green infrastructure and low-carbon mobility systems. Learn more and register. September 14, 2023. 
UrbanShift Asia Forum and Climate Finance City Academy, India 
The UrbanShift Asia Forum in New Delhi will convene around 150 participants from cities in India, China, Indonesia, and other countries in the region. Senior political and technical representatives from UrbanShift cities will meet with international organizations, financial institutions, businesses and NGOs to exchange knowledge on regional urban challenges and replicable solutions. The Investor Roundtable will provide an opportunity for participants to present their project ideas to a curated audience of investors, and the City-Business Hub will bring private sector representatives into the conversation around collaborating on finance solutions. Additionally, during the Accessing Urban Climate Finance City Academy course, participants will explore innovative ways of financing their climate projects. Learn more. September 25-28, 2023. 
Clean Transport Finance Academy, Costa Rica 
Latin American cities, national governments and leading financial and technical experts from around the world to share transport-related financial knowledge, develop viable business models for electric bus deployment and identify and access finance opportunities. Thus, the event will match the cities' needs and demand for electric buses with the financing sector's offers and expertise in creating attractive business cases and investing in the transition. Learn more. October 24-26, 2023