April 2022 Newsletter
In this newsletter, we unveil the UrbanShift website's new translation capability, announce the launch of the Data Hub, look ahead to our first in-person capacity-building activities and feature blogs spotlighting Surat, India, and San José, Costa Rica.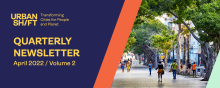 Dear friends and colleagues, 
Welcome to the second installment of UrbanShift's quarterly newsletter! I am pleased to write to you on behalf of C40 Cities, a key partner in this exciting and ever more urgent GEF-funded initiative to create carbon-free cities where both people and planet can thrive.  
The IPCC recently released two major reports which emphasize the leading role that cities must play in mitigating climate change and keeping a 1.5°C future within reach. The reports' recommendations for impactful and equitable city actions are very much aligned with UrbanShift's integrated approach, which combines climate resilient interventions in participating cities with a suite of capacity-building activities tailored to local needs by the UrbanShift team.
As the world gradually opens up, we're kickstarting the capacity-building arm of the program with a series of in-person events: UrbanShift's first strategic planning Lab takes place this week in San José, Costa Rica, organized in collaboration with WRI, UNDP and MTM-DUOT. The first UrbanShift City Academy in Africa is scheduled for May, co-hosted by C40, WRI, the World Bank, the Government of Rwanda and the City of Kigali. Our first face-to-face global event will also take place in May on the bounds of the ICLEI World Congress in Malmö, Sweden, bringing together UrbanShift cities from Asia, Africa and Latin America with their Malmö counterparts.  
Please spend some time to explore the resources, blogs and upcoming opportunities we've shared below (including the newly launched UrbanShift Data Hub).
We hope you continue to support and participate in UrbanShift's mission! 
Andrea Fernández / Managing Director of Climate Finance, Knowledge and Partnerships, C40 Cities

UPDATES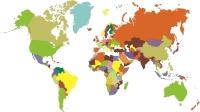 world map-multilingual-small.jpeg
A Multilingual Website: The UrbanShift website is now available in all five program languages: Spanish, Portuguese, French, Indonesian Bahasa and Mandarin. Visit any page on the site and select the language of your choice from the drop-down menu in the lower right-hand corner. Test it out.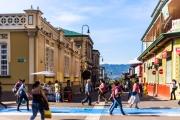 Costa Rica project launch.jpg
Costa Rica Project Launch: UrbanShift's local project in Costa Rica – a five-year $10.3 million investment to decarbonize the San José region – has officially launched. The project will be led by the Costa Rican Ministry of Environment and Energy and implemented by UNDP in partnership with the Organization for Tropical Studies. Read more.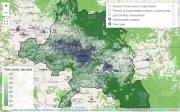 costa rica geospatial anaysis.jpg
UrbanShift Data Hub: The UrbanShift Data Hub is live! Produced by WRI, the Data Hub contains open-source geospatial data layers from select cities, aligning with three of the GEF's funding priorities for its current investment cycle: biodiversity, GHG emissions, and land degradation. Dive into the data.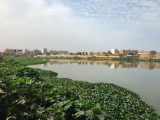 Funding for Flood Resilience in Dakar: The newly elected mayor of Dakar, Senegal (part of the GEF's Sustainable Cities Integrated Approach Pilot) has committed to funding the redevelopment of a stormwater retention basin in collaboration with the C40 Cities Finance Facility. Learn about the project.  
UPCOMING OPPORTUNITIES 
At ICLEI's triennial gathering on local sustainability, representatives from five UrbanShift cities will meet to discuss strategies toward resilient and healthy communities, learning from each other and from the experience of their Malmö counterparts. May 11-13, 2022. Register for the Malmö Summit. 
Stockholm+50 will commemorate the 1972 UN Conference on the Human Environment and celebrate 50 years of global environmental action. The event will bring together some of the world's most influential cities, businesses and thought leaders, placing cities at the center of the debate on consumption-based emissions. June 1-2, 2022. Join the Stockholm+50 group on the Green Forum. 
UrbanShift Webinar: What would cities look like if they were designed by women?  
The next UrbanShift webinar will focus on how gender-inclusive urban planning processes can create safer, happier and more equitable cities for all. June, 2022. Registration coming soon. 
This upcoming series, organized by C40, invites representatives from Indian cities and financial institutions to discuss priority sectors, financing mechanisms, and barriers towards implementing climate action. Ongoing opportunity. Register your interest. 
PAST EVENTS  
ABOUT URBANSHIFT
UrbanShift's mission is to transform cities for people and planet through integrated urban development. We engage with more than 23 cities across nine countries (China, India, Indonesia, Sierra Leone, Rwanda, Morocco, Costa Rica, Brazil and Argentina), bringing together local and global stakeholders to build a resilient, inclusive, zero-carbon urban future. Learn more.