AUGUST 2022 NEWSLETTER: CLIMATE FINANCE EDITION
In this special finance-focused newsletter, we hear from ICLEI's UrbanShift project director on the importance of providing cities access to reliable climate finance, showcasing reports, case studies and opportunities for cities to enhance their knowledge of financing strategies and secure funding for green infrastructure projects.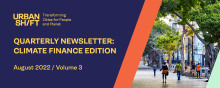 Dear friends and colleagues,
As ICLEI's project director for UrbanShift, I am excited to share some reflections with you in this special climate finance edition of the UrbanShift newsletter.
We're seeing the growing understanding that tackling climate change in urban areas is essential to build local resilience and make progress towards net-zero emissions. Access to climate finance is a key part of the solution, but current finance and investment flows do not meet actual demand for local priority projects.
ICLEI launched the Transformative Actions Program (TAP) in 2015 and since then, we have been working diligently to enable access to finance for local climate action, supporting subnational governments in developing robust urban infrastructure projects. The TAP also serves UrbanShift; all cities involved in GEF-funded projects are invited to submit their ideas to the TAP pipeline. This work is closely interlinked with other UrbanShift activities, such as the Finance Academies, strategic planning labs, and other regional and country capacity building offered by the consortium.
Enjoy this finance-focused UrbanShift newsletter! We hope you continue to follow our work, benefit from the finance case studies and reports in the resources section, avail of the featured opportunities and events, and join us to deliver on UrbanShift's mission to build a better urban future for all.
Maryke van Staden / Director of ICLEI's Bonn Center for Local Climate Action and Reporting (carbonn Climate Center)
CLIMATE FINANCE OPPORTUNITIES 
The TAP supports local and regional governments to transform their resilient development infrastructure concepts into mature, bankable projects ready for financing and implementation. Submit your project. December 15, 2022. 
The Gap Fund, implemented by the World Bank and European Investment Bank, helps cities in low- and middle-income countries to realize their climate ambitions and turn climate-resilient ideas into strategies and finance-ready projects. Apply for support. Applications accepted throughout the year.
This project preparation facility supports cities in low- and middle-income countries on projects that have return-on-investment potential by providing technical assistance and direct investments. Apply for support. August 15, 2023. 
UPCOMING EVENTS
UrbanShift's next webinar will bring together city government representatives, youth representatives and experts to discuss practical steps that cities can take to ensure meaningful youth participation in local climate action. Register to attend. August 12, 2022​​.
Considered the largest climate event in the world, Climate Week NYC is structured around 10 themes, including finance, focusing on financial opportunities to identify and mitigate climate risks as part of a green recovery. Register to attend. September 19-25, 2022.
This year's edition of Daring Cities, a virtual climate forum hosted by ICLEI, is dedicated to climate action financing and will include sessions on the governance and use of public finance for sustainable cities, innovative finance, and a pitch event dedicated to TAP projects. Find out more. October 3-7, 2022.
The 27th annual UN Climate Change Conference will focus on mobilizing collective efforts for emission reductions, enhancing transformative adaptation, enabling finance and delivering on-the-ground solutions on time and at scale. Details about UrbanShift's participation at COP27 coming soon. November 6-18, 2022.
ABOUT URBANSHIFT
UrbanShift's mission is to transform cities for people and planet through integrated urban development. We engage with more than 23 cities across nine countries (China, India, Indonesia, Sierra Leone, Rwanda, Morocco, Costa Rica, Brazil and Argentina), bringing together local and global stakeholders to build a resilient, inclusive, zero-carbon urban future. Learn more.